Advanced Imaging for Artworks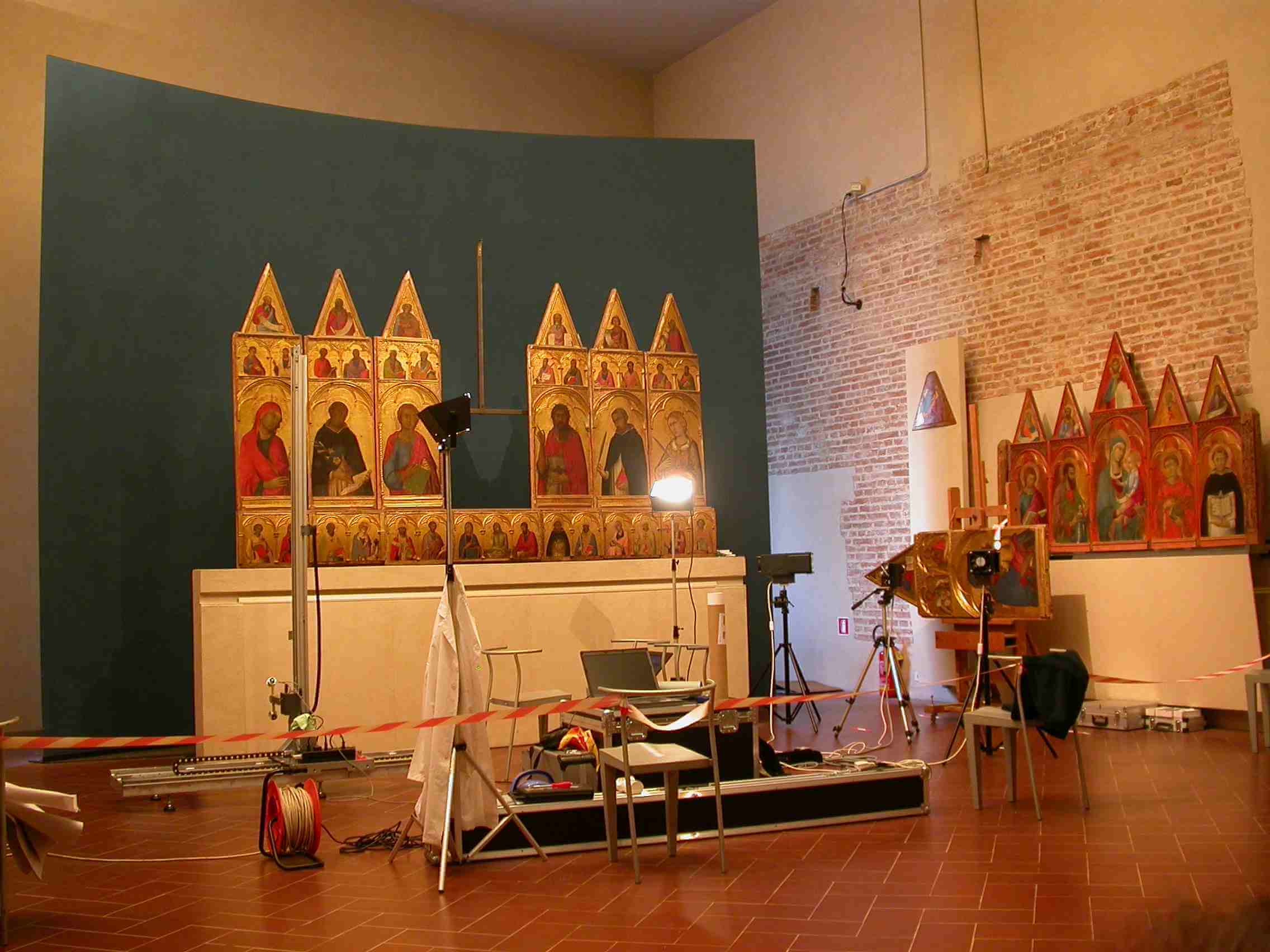 Art-Test investigations on the Poliptych of Saint Catherine, by Simone Martini at Museo Nazionale San Matteo of Pisa
Art-Test leading the field, and working together with major research institute worldwide is able to offer the most advanced imaging techniques
We make available to private and public customer our SIGNATURE METHODS like:
with scientific, non commercial, specialised UV lamps, for a much more informative UV imaging
INTRAVEDO ®  InGaAs scanning, having the highest resolution with best contrast available worldwide
CCD MULTISPECTRAL Acquisition, we presented the first paper on Multispectral Imaging of Paintings together witht he University of Florence on the prestigious IEEE magazine in 2008 already
BROADBAND VIDICON Inspections, we own one of the few remaining such device
for information about our device click here
we have a long hystory of scientific research in the field, check also our publications
 X-RAYS imaging (Digital or Analog),

 

we offer a choice between such techniques
MACRO-MICRO (multispectral) imaging, we can have standard macro-micro imagining with a multimodal videomicroscope and an

 

EXCLUSIVE multispectral macro imaging with a multispectral imaging
THERMOGRAPHY, 

we have two different devices to match your needs
supported by extensive research, see our international publications
 A GROUND BREAKING NEW METHOD
At last scientific conference HERITECH, we presented a very new method, developed in collabo
ration with the National Institute of Applied Optic
s (CNR-INO), the University of Florence, the University La Sapienza of Rome and the Opificio delle Pietre Dure of Florence, now published on a journal:
A. Pelagotti, L. Pronti, E. Massa, M Galeotti, A. Felici, "Multispectral Reflectance and UV Fluorescence Microscopy to study painting's cross sections", IOP Conference Series: Materials Science and Engineering. 364. 012064. 10.1088/1757-899X/364/1/012064. (2018).
to acquire multispectral and multimodal imaging of painting sample cross-section, and being able to detect the paint binding media per layer.
We also offer the classical techniques

:
Infrared Photography
False Colour Imaging
Raking light
Trans-illumination