The wonderful "Female Head" of Leonardo, also known as "Scapigliata" or "Lady of disheveled hair" preserved at the National Gallery of Parma,  represented for Leonardo da Vinci a sort of manifesto of his status of excellent painter and, at the same time, a sort of a safe-conduct for his habit of not finishing his paintings, according to the latest research of Carmen Bambach, published on the occasion of the extremely intersting exhibition "Unfinished" at the MET of New York.  In fact, it would seem that Leonardo wanted to compare himself with Apelles of Kos, the legendary ancient Greek painter. In a book that Leonardo is known to have owned, Pliny wrote that the Apelles had worked on a Venus without being able to bring it to completion, remaining however, despite this "failure", the greatest painter ever existed, and rather "inventing" the "unfinished" genre.
Art-Test has performed investigations on the Scapigliata at the Metropolitan Museum of Art (MET) of New York, to evaluate its conservation status before its transfer to Paris, for the exhibition "Leonardo in France – The Master and his Pupils 500 years after crossing the Alps. 1516-2016",  open at the Italian Embassy till November 20, 2016.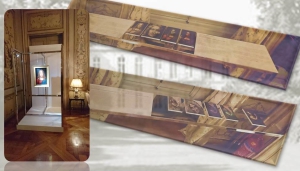 Art-Test has also performed analysis on two other of the most important paintings on display in Paris: the "Saint John" of Salaì of the Pinacoteca Ambrosiana of Milan and the "Salvator Mundi" (or "Head of Christ") also currently generally attributed to his favorite assistant and friend Salaì but by other eminent scholars reputed of being by the hand of Leonardo himself.
The reflectographies of these great artworks, together with many other diagnostic images are published with considerable size and quality in the catalogue of the exhibition.