The emotion one feels when analysing a painting with infrared reflectography and discovering the preparatory drawing is terrific
Each time it is a unique experience, discovering a secret kept under the layers of painting, a moment that the artist never thought would be revealed. This is not needed only when the painting … is not finished! Only in this case it is possible to see perfectly with the naked eye which tools were used, how the painting is built, if e.g. a means of carrying over from a composition previously made elsewhere was used or not.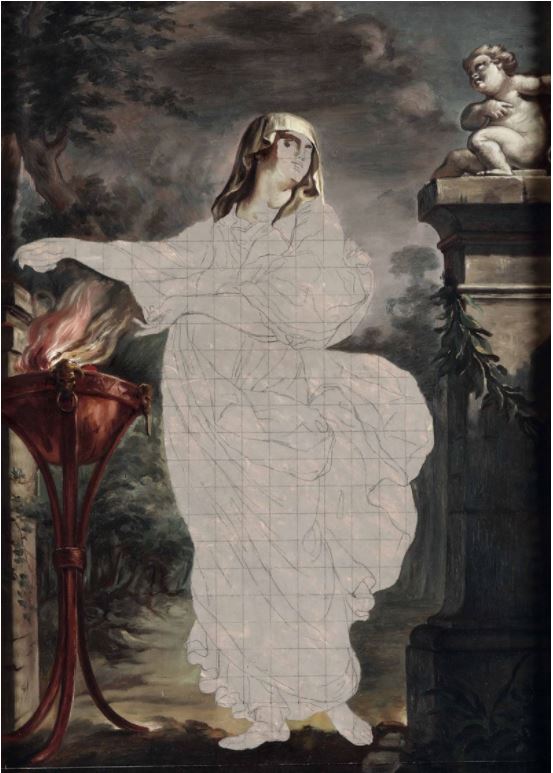 This is the case of the painting here illustrated and of the painting on the cover, attributed to Garofalo.
The MET of New York a few years ago, proposed an entire exhibition on the unfinished artworks (UNFINISHED). Undoubtedly an interesting path that allows you to understand so much about the modus operandi of each artist.
But when the painting is completed we just have to rely on technology and infrared radiation.
Depending on the type of instrument and in particular the sensor used, there will be a different ability to penetrate inside the pictorial layers and to read any underlying preparatory drawing.
In the past, special cameras and films were used. Currently the best performing sensors are the InGaAs sensors, which are indeed generally mounted on the most advanced instruments. An intermediate way is represented by CCD or CMOS sensors, normally used by digital cameras, even scientific ones.
Infrared reflectography analysis also allows you to identify any underlying paint compositions, reuse of the support and retouching.
Depending on the budget and the result you are looking for, we will be able to suggest which technique is the most suitable for you!
Art–Test has the most varied and most advanced instrumentation. Our quadruple resolution InGaAs scanner achieves unprecedented results. To learn more, read here. If there is something to discover under your painting, we will find it!