For the first time the Uffizi Gallery in Florence is co-organizer of an exhibition along with another museum; we are referring to the first major retrospective of Piero di Cosimo, that the National Gallery of Art in Washington is hosting from February 1st to May 3rd, 2015: "Piero di Cosimo: The Poetry of Painting in Renaissance Florence". There has been just one precedent case in the United States: the exhibition in New York, in 1938, of seven works at the Schaeffer Gallery, a small but important contribution to the dissemination of works of the great masters in museums that were among its clients.
Forty-four artworks are arranged along the six galleries of the West Building: altarpieces, private devotional pictures and portraits. The style of the Master distinguished by an "abstract and uneven" ingenuity, as claimed by Vasari in "Le Vite", is traced according to the changeability that characterized him: pagan themes, divine themes, mythological and allegorical scenes. The exhibition includes paintings from Italian churches and the masterpiece of the Museo degli Innocenti "Madonna and Child Enthroned with the Saints Elizabeth of Hungary, Catherine of Alexandria, Peter and John the Evangelist with angels."
Art-Test had the pleasure to perform diagnostic campaigns of three works by Piero di Cosimo including one of the paintings on display in Washington, the famous "Liberation of Andromeda" (about 1510-1513), chosen as the cover image of the exhibition. This work is a symbol of the imagination of the Master who expressed himself more in the subjects than the techniques, such as the sea monster pictured here, which seems to come from a bizarre bestiary. We cannot give any anticipation about the results of the analysis because they are confidential until published, but we will update you as soon as possible!
Soon you will be able to visit the exhibition in Florence, albeit in a different form. It will be the Uffizi Gallery hosting it from June 23 to September 27. Save the date!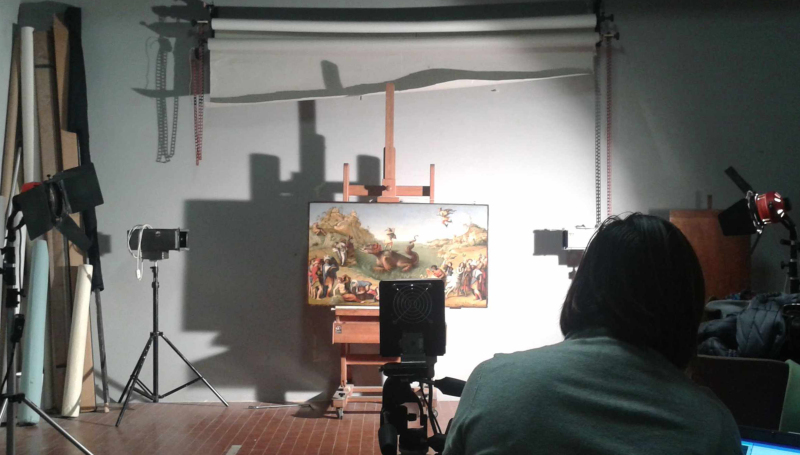 An image of Art-Test at work during the acquisitions on the painting by Piero di Cosimo in the laboratories of the Uffizi in Florence