The artworks stolen from Jews by the Nazis, the marbles of the Parthenon, the Benin bronzes, all of this forces us to consider the legacy of colonialism, the responsibility of plunder, and the value of cultural integrity. The question arises about restitution of these artworks to their rightful owners, as they were stolen, illegally sold, or forcibly taken. These discussions are highly relevant today, as wars and looting still occur. But how far back can we go in determining who the rightful owner is today? On what basis can we ground these claims?
Many may know Rodolfo Siviero as the first secret agent of art, who, thanks to an official assignment he received in April 1945, just after the end of World War II, achieved his first remarkable success by bringing back over 600 works from the Uffizi and the Palatina that the Nazis had taken and transported to South Tyrol, Italy.
But perhaps not everyone knows that his most significant contribution was probably to introduce the power of reason and culture into the international protection of artistic heritage, eliminating ancient rights like those of looting and plunder by conquerors and reaffirming the value of artwork as belonging to its people.
Siviero's most important action occurred in 1948, and it was a diplomatic and institutional one. That year, he succeeded in amending Article 77 of the Peace Treaty signed by Italy and the Allied forces after the armistice of September 8, 1943.
Initially, this article regulated the return of stolen artistic goods to Italy and set the date of the armistice as the limit after which it was legitimate to request the return of artworks. However, this excluded all those taken before, especially those removed under pressure from fascist leaders who had violated national laws.
Siviero managed to change the date to 1937, convincing the Allies to alter their view that even purchased and paid-for works were legitimate. Instead, he asserted the principle of legality over the abuses of acquisition by Nazi leaders.
Indeed, along with all the cruelty and crimes that Nazism was committing in Europe, there was also a predatory tactic towards artistic treasures. This tactic took two forms, an "official" one and a wartime one.
An example of the first modus operandi is the story of the Discobolus by Myron of Lancellotti, a masterpiece that had been protected from exportation since the days of the Papal State. However, it was the Führer himself who wanted it: in 1937, he sent Prince Philip of Hesse, husband of Princess Mafalda of Savoy, to procure as many masterpieces as possible for the future Führer's museum in Linz. The Reich Chancellery set up a special account for the prince at the German Embassy in Rome, and between 1940 and 1941, German art acquisitions in Italy increased to the point where the fascist government banned their sale to foreigners in September 1941. But by then, the damage had been done.
In the case of the Discobolus, the responsible minister, Giuseppe Bottai, tried to resist the German prince's demands, but Galeazzo Ciano personally intervened, so in the end, Bottai had to authorize the sale and export. This was the beginning of the end. Ciano did everything in his power to facilitate the acquisition of artworks by Nazi leaders, while Bottai, on the contrary, tried on several occasions to stop him or at least limit these operations.
The other voracious organizer of these thefts was Hermann Göring, who in December 1942 came personally to Florence in search of prey. He was the mastermind behind it all, especially the other method of appropriating artworks, the one he had implemented in Poland in 1939, where he seized all of the artistic heritage, and the same he did in France from 1942 and in Italy from 1943.
From November 1943, the Kunstschutz, a German office created by Göring, was active in both Rome and Florence (it had its headquarters at the Kunsthistorisches Institut in Piazza Santo Spirito). This institution was officially supposed to protect Italian art, but in reality, it systematically organized the spoliation of Italian artistic, bibliographic, and archival assets, shipping them to Hitler's Linz Museum and, above all, to Göring's private collection.
An exemplary result of Siviero's actions is the resolution of the Lancellotti Discobolus case, as mentioned earlier. Siviero managed to recover it, despite protests from German intellectuals in 1948, who wrote a letter to U.S. President Truman, requesting that the statue remain in Germany because it was purchased "legally". To such audacity, Benedetto Croce, of all people, responded vehemently, reproaching these intellectuals for their silence on Nazism and its racial policies. Thus, the Discobolus returned to Italy in November 1948, and Siviero gained widespread popularity. In total, there were about 3,000 works that he brought back to Italy, such as Tiziano's Danae from Capodimonte, which was given to Göring as a birthday gift in 1944, the Apollo from Pompeii, Lisippo's Hermes, Tintoretto's Leda, and many others.
Imagine what our heritage would be like without his intervention.
U.S. authorities, after initially collaborating with Siviero and Italy, began to resist returning artworks, as they did not want to "punish" Germany too severely, which they wanted to use in an anti-Soviet context. Once again, thanks to his diplomatic efforts, Siviero achieved another remarkable success. In 1953, German Chancellor Adenauer and Italian Prime Minister De Gasperi signed an agreement to establish two national delegations for the restitution of artworks, in compliance with Article 77 of the Peace Treaty, and Siviero was appointed head of the Italian delegation with the rank of plenipotentiary minister.
But exactly, who was Rodolfo Siviero, and what was his story?
Siviero was a unique figure, a civil servant who combined the characteristics of an investigator, a secret agent, an art connoisseur, and a man of culture. He was a controversial, quarrelsome character with a legion of devoted friends and just as many staunch enemies.
Born in Guardistallo, Pisa, on December 24, 1911, he moved to Florence in 1924 due to his father's work. However, he was not accepted at either Michelangelo High School in 1924 or Galileo High School in 1928, as his entrance exam results were poor. Undeterred, he decided to educate himself as an autodidact.
In 1936, there was likely a crucial turning point in his life: he became a spy for the Italian Military Intelligence Service (SIM), the first Italian military intelligence agency, serving the fascist regime. He received a scholarship for art history in Florence, where he had enrolled as a student, and from late 1937, he was sent to Germany several times, to Erfurt and Berlin, to spy on the Nazi allies. However, in 1938, he was expelled as an undesirable person. The exact reason for this expulsion is unclear; Siviero claimed in his diaries that he had started making contact with the Anglo-Americans and, when discovered, was expelled. However, there are no documents regarding this event, or even his enrollment in the SIM, making it difficult to understand the precise sequence of events. This is not the only murky episode in Siviero's life.
Nevertheless, from the mid-1930s, events such as the Spanish Civil War, the 1938 racial laws, the increasing alignment of fascism with Nazism, and likely the knowledge in Germany of the fierce persecution of Jews all led to a crisis in Siviero's faith in Mussolini, causing him to distance himself from the fascist regime.
After having served for facilitating restitutions following the end of WWII, between 1963 and 1983, in his capacity as a plenipotentiary minister of the Directorate General for Antiquities and Fine Arts, Siviero continued to track down artworks dispersed during the war across Europe. He also dealt with a new Italian misfortune: thefts and illegal excavations. In this field as well, he achieved many successes using his direct and personal methods, which made him many enemies. Among these operations, we can mention the recovery in the 1970s of two panels by Pollaiolo from the Uffizi found in Los Angeles.
In the final phase of his life, he tried in every way to establish a Museum of Stolen Artworks in Palazzo Vecchio in Florence, to seal and celebrate his legacy for future generations. He had almost succeeded, but after his death, everything came to a standstill, and nothing was done.
Rodolfo Siviero died of cancer on October 26, 1983, and the Italian Delegation for Restitutions, established in 1953, was dissolved in 1987. Siviero is buried in the Chapel of Painters in the SS Annunziata.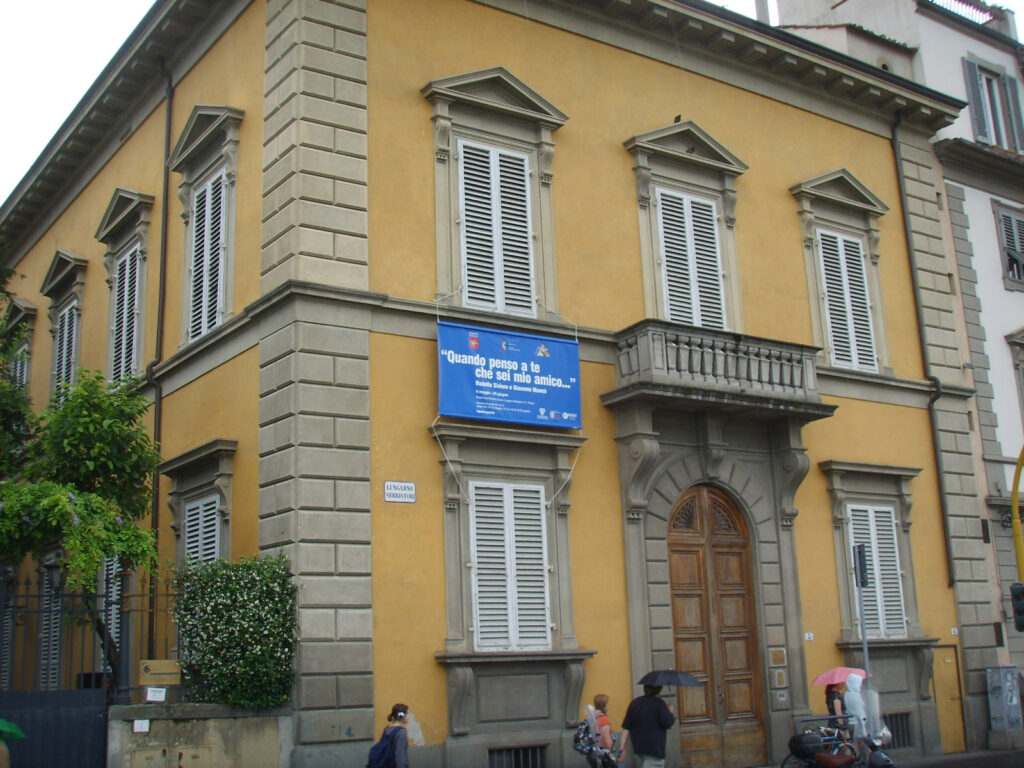 He donated his home and collection to the Tuscany Region to create a museum. Inaugurated in 1992, the Museo Casa Siviero in Florence will be completely renovated and expanded starting in March 2024, occupying all three floors of the building where he lived. This will involve a total reorganization of the spaces to finally make his work and collection accessible to everyone and to introduce to those who still need to be thanked.