There are names that are famous today and are considered immortal, such as Caravaggio or… Vermeer.
However, some of them weren't considered geniuses at all during their lifetime, incluing Vermeer (!). There are also painters who, instead, hardly anyone knows today, but were celebrities at their time, much in demand and copied. The taste of the time, fashion, marketing skills have an amazing influence on what we consider of value today.
Did you know, for example, that one of the paintings exhibited in the "once in a lifetime" show on Vermeer that just ended in Amsterdam, is a copy from Felice Ficherelli? A Tuscan painter whose work is totally unknown to most of us, probably.
But Vermeer carbon copied at least one of his compositions, just adding a crucifix in her hands.
The "Santa Prassede", exhibited with great emphasis like all the few remaining (or produced?) works of the Dutch painter, is a faithful copy of the "Santa Prassede" by Ficherelli, known as Il Riposo (the Rest), by who at least two versions are known, now in private collections.
Vermeer merely exchanged the blood-soaked sponge for a crucifix, actually lessening the pathos.
But think how curious it is: the original version by the Tuscan painter went to auction in 2017 realizing the record price for Ficherelli of around 350 thousand euros, obviously after being recognized as the painting copied by Vermeer. Ficherelli's other works are exchanged for much lower figures.
The copy made by Vermeer went to auction in 2014 realising 7.9 million euros, a figure that is even considered very low for the artist, precisely because the painting was not yet bearing a very certain attribution.
The artwork, in fact, even if signed "Meer 1655", had been rejected by many connoisseurs. It ws accepted as by Vermeer only after a long and in-depth diagnostic campaign conducted by the Rijksmuseum. During the investigations they also analysed the white pigment, which turned out to be exactly the same used on another Vermeer painting "Diana and her companions".
If you now would like to see the "Santa Prassede", it's too late – the tickets for the Amsterdam exhibition sold out in a flash – and both Vermeer's painting and the "Santa Prassede" by Ficherelli are in private collections.
If you would like to see some other of Ficherelli's works, however, it is not difficult, even if most are in private hands, in fact they are in several in Florentine churches and in some museums in Italy and abroad.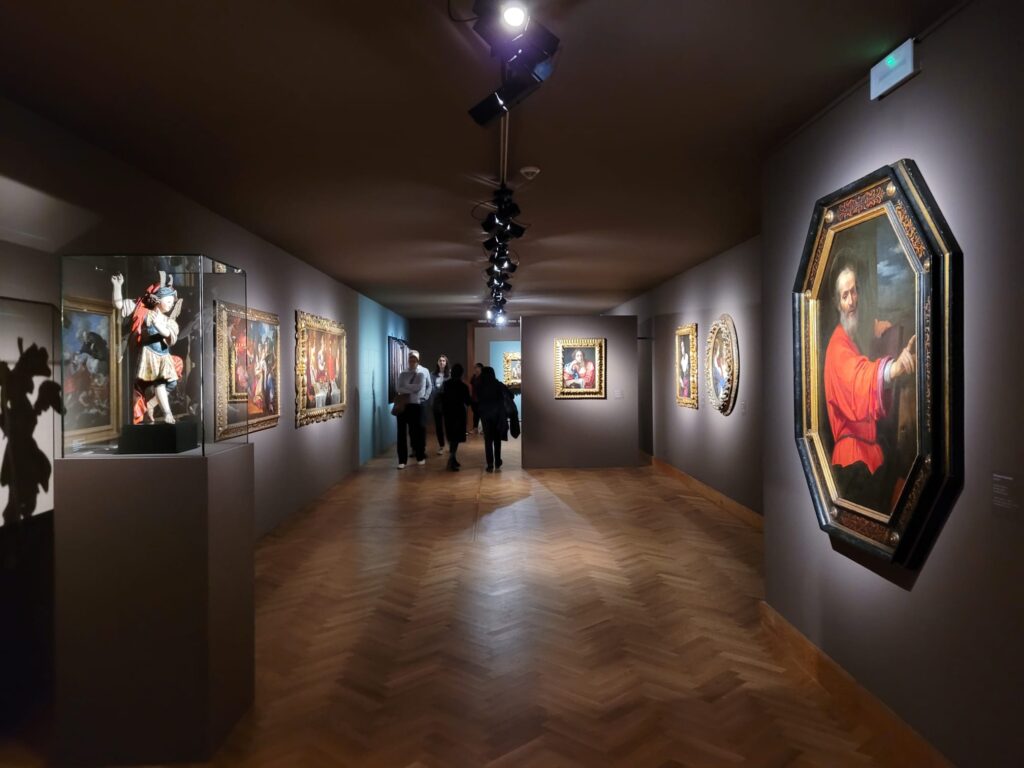 And in you travel to the norther European countries, now several of his paintings are in Brussels, at the Bozar, in the exhibition "Le Baroque à Florence. The Haukhol Family Collection" running until 21 July 2023. It is an exhibition that already took place in 2019 at the Musée National d'Histoire et d'Art in Luxembourg, and which was scheduled in Belgium two years ago but was postponed due to Covid.
In the exhibition, for which a new section of the venue has been inaugurated (a bit cramped, to tell the truth), other exponents of the Florentine seventeenth century are also represented. It is a period often unjustly neglected and still little known, but with exquisite, very elegant and luxurious works. And extraordinary painters, starting from the Dandini family, whose rediscovery in Italy is due, among others, to Mina Gregori with the 1986 exhibition at Palazzo Strozzi: Il Seicento Fiorentino. Art in Florence from Ferdinand I to Cosimo III.
A rediscovery that, however, has not led to great popularity, they are still patiently waiting for their (second) moment of glory to arrive. Meanwhile prices are low. Time to invest?
By the way, do you know why Ficherelli was called "il Riposo"? A very Tuscan nickname. In fact, it seems that he took it easy, and he didn't tire himself too much, nor for personal matters nor for producing paintings. And then the Florentines began to address him with their typical biting but benevolent irony (Felice means "Happy" in Italian): "Felice Riposo" i.e. "Happy Rest" !