There are many works of art that portray battles, deaths, shootings, drawn swords … War in short. Instead, there are far fewer who choose Peace as a subject, perhaps because war has always been much more frequented by men than Peace. One of these was painted by Peter Paul Rubens, and its titale is Minerva protects Peace from Mars (Peace and War).
Of large dimensions, 208×298 cm, it was painted by the painter not in his home in Antwerp but in London, exactly between 1629 and 1630 and is in fact preserved in the National Gallery. And what was Rubens doing in London? Well, perhaps this is a slightly less known aspect of the great Flamish painter, very famous in his time and also in ours.
In fact, his undisputed ability, combined with tireless work (it is said that he worked every day from four in the morning until five in the afternoon!), Had made him an extraordinarily successful painter.
But what is less known is another characteristic of him, quite unique in the panorama of art of all times, and that is the combination of art and politics that Pieter Paul Rubens mastered in his life. He was in fact a very influential figure for his time thanks to the many diplomatic roles he assumed.
His passion for diplomacy dates back to his childhood, when at the age of 13 he entered the service of a countess of Antwerp as a page, a prestigious role for a boy of the time, which he soon abandoned to devote himself to his greatest passion, painting.
Although, during his youthful service with the Duke of Mantua, he had already completed diplomatic missions in Spain, Venice, Rome and Genoa for his lord. Later, however, he distanced himself from political life, dealing only with his art, at least until that traumatic event which was the death of his beloved wife Isabella Brandt, married in 1609, during a plague epidemic in 1625.
It was evidently a traumatic event for him, to the point that he decided to accept new diplomatic missions, most likely to distract himself from his deep mourning. He turned out to be a very skilled negotiator: a fascinating man, of who contemporaries (and even self-portraits) remember his lively and penetrating gaze, he managed without difficulty, thanks to the courteous education and prestige he enjoyed, to complete delicate negotiations.
It was therefore no coincidence that Philip IV of Spain had chosen him to negotiate peace with Charles I of England in 1629 on his behalf. The war between the two countries had been going on for 5 years now and both kings wanted to reach a deal. On the other hand, Charles I was a great connoisseur of art and a passionate collector, and as such he could not fail to know and appreciate the great Rubens. So the one of Philip IV was a very clever move.
The painter then painted a new artwork for the English sovereign, very relevant to his mission, since he chose as the subject the personification of Peace, depicted naked in the center of her while she is feeding Pluto, god of wealth, with her milk. Its prosperous and opulent forms best express the Flemish painter's ideal of feminine beauty, but in this case also the unattainable pleasantness of peace.
And here comes the discovery made thanks to the radiographs made by the National Gallery in London, since the painting is kept in its rooms. Thanks to these analyzes, it was discovered that in fact the painting was initially quite smaller than today, and was limited to the central group with Peace with the attributes also of Ceres goddess of the Earth, the little Pluto she nursed, the group of children on the right with Hymen, god of marriage, and behind him an army Minerva who rejects Mars god of War accompanied by one of the Erinyes. This part of the painting actually has a much more refined and detailed ductus, while the other parts around it are faster and more summary.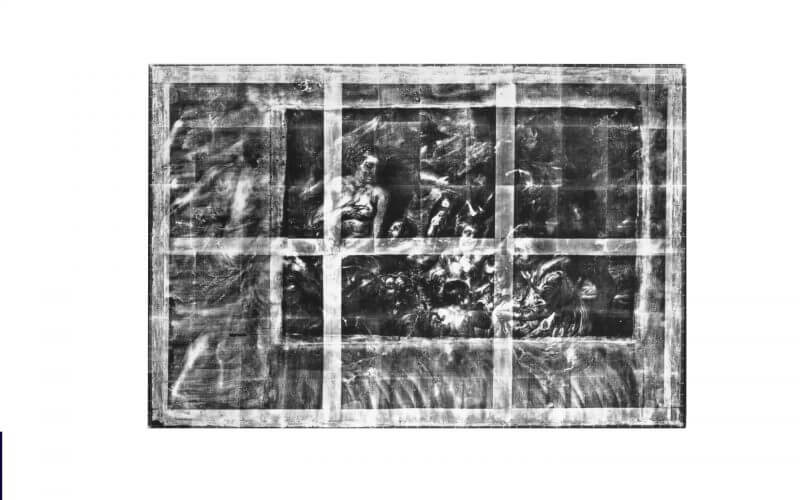 can be hypothesized that the English king had well understood the meaning of this painting, and therefore accepted the role of mediator of the painter and declared himself available to sign the peace with Spain (which actually happened eight months later), but probably Charles requested a more grandiose and impressive work than what Rubens had perhaps initially conceived. This would explain the enlargement of the size of the painting and the evident haste with which the external parts of the composition were completed, with the addition on the left of two women of difficult interpretation (perhaps two maenads or Prosperity and the Arts), the body of the satyr, of the whole lower band of the painting and also, in the upper right corner, of a harpy.
Rubens returned to Antwerp in March 1630, after being knighted by Charles, and in November a peace treaty was signed between England and Spain.
But there is another curiosity in this painting, and it concerns the group of children in the center on the right. In addition to being part of the allegory, these children have been identified, thanks to the preparatory drawings found in various museums in Europe, as the sons and daughters of Sir Balthasar Gerbier, an art dealer in the service of Charles I with whom Rubens was a guest on this diplomatic mission to London. George is the model of Hymen, the boy with the torch, while the girl he is crowning with a flower crown is his sister Elizabeth. The other girl who stares directly at us with large, hopeful, slightly anxious eyes is another sister, Susan.
So already 4 centuries ago it was more than clear to everyone that refusing war and embracing peace brings prosperity and abundance. And it is truly heartbreaking to see how even today there are some who prefer to ignore a simple truth like this.